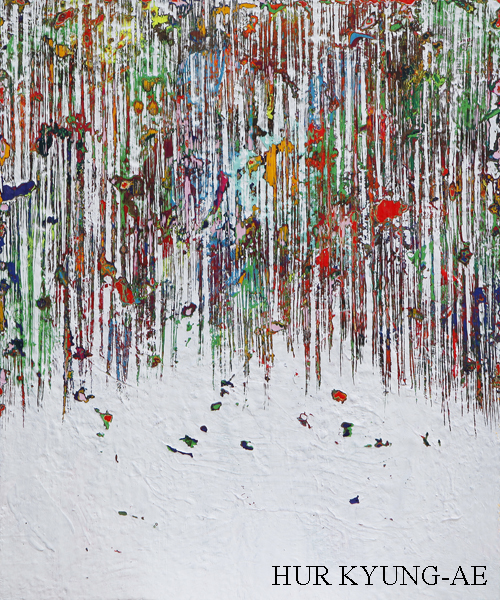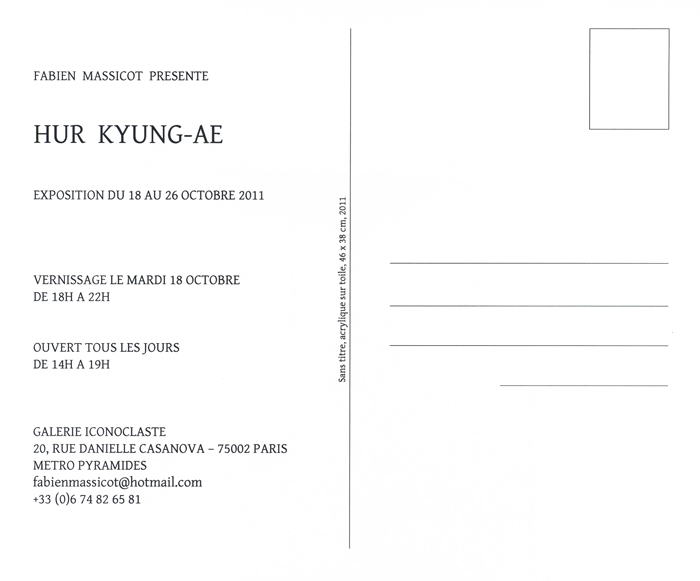 Solo Exhibition in Paris 파리 초대개인전

≪ Foret rouge≫, Exposition de HUR Kyung-Ae
Kyung Ae est une jeune artiste prometteuse nee en 1977 a Gwang-Ju en Coree du Sud.
Elle vit et travaille a Paris depuis janvier 2003
Sa peinture a tendance abstraite, est influencee par les maitres coreens du monochrome.
Elle s'en distingue par l'utilisation d'une technique qui nous projette dans la matiere meme.
En decouvrant les couches de peintures successives au gre de ses grattages,
elle nous invite dans un monde mineral.

Exposition du 18 au 26 octobre 2011 organisee par Fabien Massicot

Vernissage le mardi 18 octobre a 18 heures

Galerie Iconoclaste
20, rue Danielle Casanova – 75002 Paris
ouvert tous les jours : 14 – 19h
Contact : fabienmassicot@hotmail.com

/////////////////////////////////////////////////////////////////////////////

Kyung Ae is a promising young artist born in 1977 in Gwang-Ju in South Korea.
She lives and works in Paris since January 2003
His painting tends abstract is influenced by Korean master of monochrome.
It is distinguished by the use of a technique that takes us into the very matter.
By discovering the successive layers of paint according to his scratching,
she invites us into a world mineral.